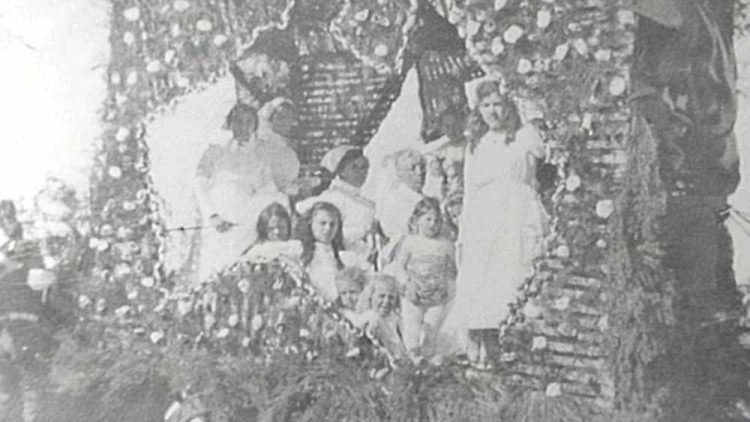 Red Cross Float in a parade to raise funds for the war effort, ca 1914-1918. Courtesy Daphne Rudduck.
Canterbury District Women's Contribution to the war effort from the Homefront
It is very evident from the number of local organisations, groups, etc setup by the women of the district and the number of fund raising events they organised during WWI that they played an important part in supporting their sons, husbands, brothers, neighbours and loved ones serving overseas.
Campsie Red Cross and the Belgian Clothing Relief Society
The Australian Red Cross was set up on the 11th August, 1911, the Campsie Branch soon after becoming one of the first in Australia. The first Honorary Secretary was Mrs Annie Rudd who lived on the corner of Claremont and Marlowe Streets, and whose sons, Joseph and Leonard were both in the Navy.
Mrs Frances Guttridge, was the Treasurer. Her son Frederick enlisted in the A.I.F, in 1915, as soon as he turned 18. Mrs Clara Draper, former Lady Mayoress of Canterbury, became President. Her son, George, was among the first to enlist in August 1914, and fell at the Anzac Landing on Gallipoli. He was only 20.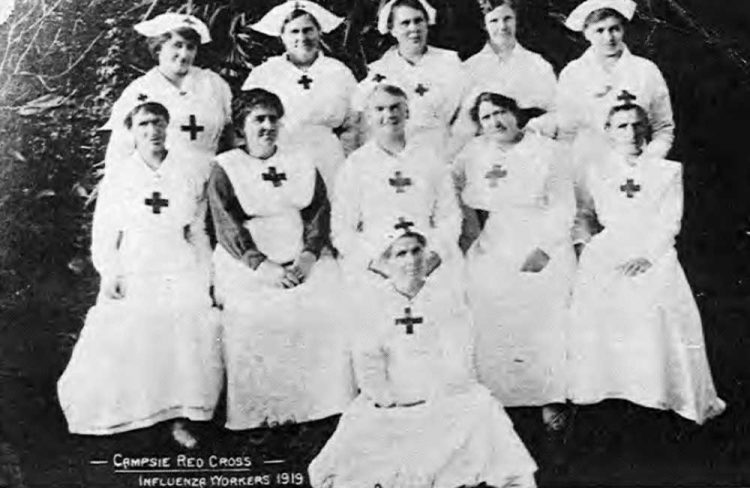 Campsie Red Cross Influenza Workers. Although this photograph was taken after WWI many would have been members during the War. Left to right: Standing: 2. Mrs Ingram; 3. Mrs Burdette. Seated: 1. Mrs Attenborough; 4. Mrs Harding; 5. Mrs Gutridge. Front: Mrs Bradney, 1919
Members volunteered to pack and distribute comfort packs to make life a little easier for the troops. Campsie branch held stalls and street processions to raise funds and purchased clothing, knitted socks, sent books, magazines and food, and made donations to the Belgian Relief Fund and the NSW Division of the Red Cross.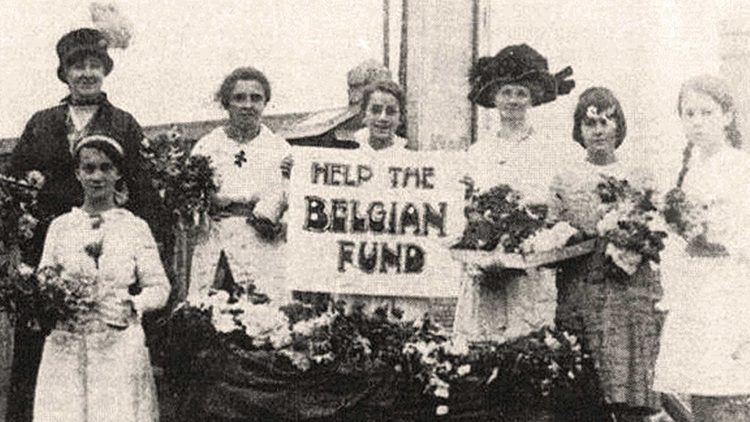 Fund Raising for the Belgian Fund during WWI, ca 1916
In fact the first mention of the war in the minutes of Canterbury Council is correspondence from the Belgian Clothing Relief Society wishing to obtain new and second-hand clothing for Belgians made destitute by the war. Council offered the Town Hall as a depot to receive clothing and a carrier offered to deliver donations to the Belgian Consulate.
Welcome Home Activities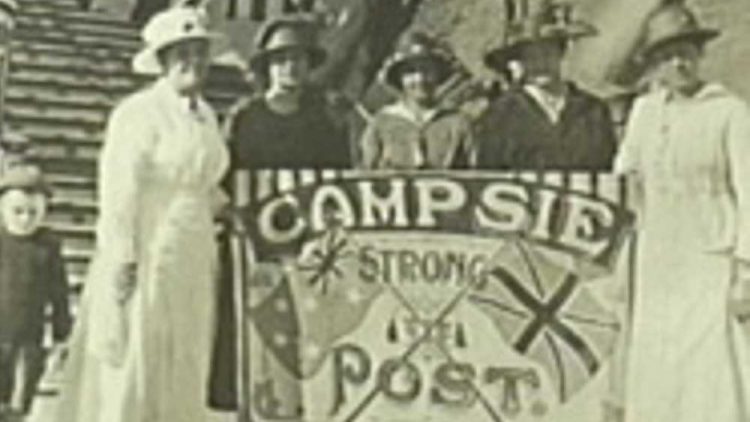 Postcard with Campsie Strong Post ladies waiting on Campsie Station with banners to welcome home WWI soldiers. Mrs Frances Guttridge (centre) Mrs Rose Attenborough (right). The back of the postcard reads: " Fred, This will show you how we decorate the station. Can you pick me out? Love from Ma."
Joyous "Welcome Home" activities were organised for returned servicemen by such bodies as the West Ward Progress Association, Belmore Progress Association, Canterbury Soldiers Comfort Fund, Hurlstone Park Soldiers and Sailors Welfare Association and the Canterbury and Campsie Strong Posts. Venues included Belmore Drill Hall, Canterbury Town Hall, Hurlstone Hall in Duntroon Street, Hurlstone Park, Picture Palace opposite the St George Hotel and the "Kia-Ora" Hall at Campsie.   Many returning soldiers were welcomed at the various railway stations by friends and ladies committee members. School children were often present.  At the later functions, Illuminated Certificates were presented by the Mayor to returned soldiers.
Women from the Canterbury District who volunteered for service overseas
Lesley Muir and her Canterbury and District Historical Society team found four women from the Canterbury District who volunteered during WWI.
Staff Nurse Mary Gaffney
Gaffney, Staff Nurse Mary Hospital Transport Corps, no. 2 Hospital Ship Kanowna. Staff Nurse Gaffney lived in "Winslow" 77 Old Canterbury Road, Hurlstone Park. Masseuse.
Staff Nurse Mary C B Paterson
C B Paterson, Staff Nurse Mary 2nd Australian General Hospital Special  Reinforcements. Staff Nurse Paterson lived in "Tullynissle" William Street, Canterbury [i.e. Earlwood]. The AGHS moved from Egypt to France in 1916. It arrived at Marseilles on 1st April, 1916 and was established at Boulogne.
Staff Nurse Janet Sorley
Sorley, Staff Nurse Janet 2nd Australian General Hospital Nursing Service. AGH was set up at Mena House, in Cairo – the operating theatre was in a suite of rooms which had once belonged to the King of Belgium. In time, they moved to Gezireh because of the heat.
Staff Nurse Alice Cecilia Scahill
Scahill, Staff Nurse Alice Cecilia Australian Army Nursing Service. When Sister  Scahill returned from the war, she worked as a district nurse, then opened a private maternity hospital at Henry Street, Punchbowl, where she lived with her mother. Sister Scahill later became Matron of Bankstown Hospital Outpatients Department in Appian Way, Bankstown. She passed away on 29 December,1973 and was given a military funeral, and is buried at Sutherland. Staff Nurse Scahill is listed on the War Memorial, in The Broadway, Punchbowl.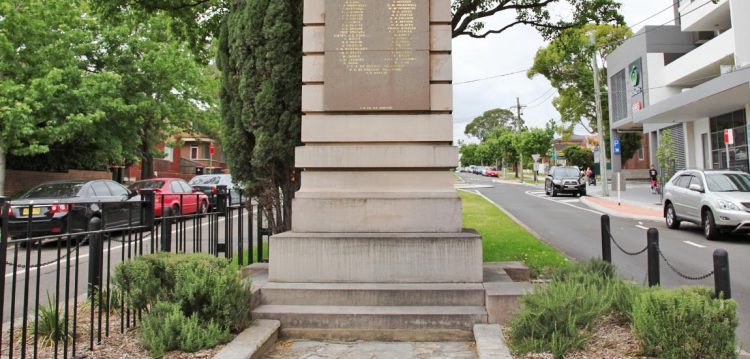 Staff Nurse Alice Cecilia Scahill is remembered on the Punchbowl War Memorial The Boulevarde, Punchbowl.
Source: Canterburys Boys: World War I & Sydney's Surburban Fringe. Edited by Lesley Muir. Canterbury and District Historical Society, 2002.